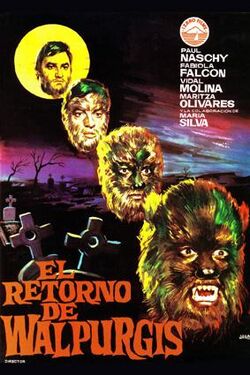 El Retorno de Walpurgis (The Return of Walpurgis), better known as Curse of the Devil, is a 1973 werewolf film. It is the sixth film featuring Waldemar Daninsky.
Paul Naschy as Waldemar Daninsky/Irineus Daninsky
Fabiola Falcón as Kinga Wilowa
Mariano Vidal Molina as Roulka
Maritza Olivares as Maria Wilowa
José Manuel Martín as Bela
Eduardo Calvo as Laszlo Wilowa
Ad blocker interference detected!
Wikia is a free-to-use site that makes money from advertising. We have a modified experience for viewers using ad blockers

Wikia is not accessible if you've made further modifications. Remove the custom ad blocker rule(s) and the page will load as expected.