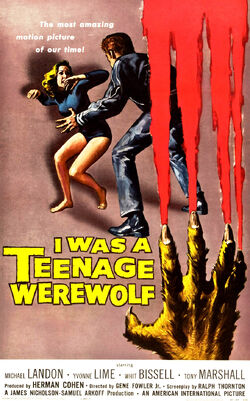 I Was a Teenage Werewolf is a 1957 werewolf film. It centers aroung a young man named Tony Rivers that is turned into a werewolf by a psychologist.
Michael Landon as Tony Rivers
Yvonne Lime as Arlene Logan
Whit Bissell as Dr. Alfred Brandon
Malcolm Atterbury as Charles Rivers
Barney Phillips as Detective Sgt. Donovan
Robert Griffin as Police Chief Baker
Joseph Mell as Dr. Hugo Wagner
Louise Lewis as Principal Ferguson
Guy Williams as Officer Chris Stanley
Tony Marshall as Jimmy
Vladimir Sokoloff as Pepe, the Janitor
Kenny Miller as Vic
Cindy Robbins as Pearl
Michael Rougas as Frank
Dawn Richard as Theresa
Ad blocker interference detected!
Wikia is a free-to-use site that makes money from advertising. We have a modified experience for viewers using ad blockers

Wikia is not accessible if you've made further modifications. Remove the custom ad blocker rule(s) and the page will load as expected.