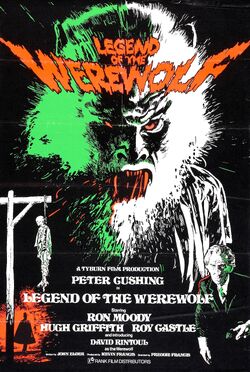 Legend of the Werewolf is a 1975 British werewolf film. The film was wtitten by the screenwriter of The Curse of the Werewolf. Due to its many simlarities it is considered an unofficial adaptation of The Werewolf of Paris.
David Rintoul as Etoile
Peter Cushing as Professor Paul
Lynn Dalby as Christine
Ron Moody as Zookeeper
Hugh Griffith as Maestro Pamponi
Pamela Green as Anne-Marie
Stefan Gryff as Max Gerard
Renee Houston as Chou-Chou
Marjorie Yates as Madame Tellier
Norman Mitchell as Tiny
David Bailie as Boulon
Michael Ripper as Sewerman
Patrick Holt as Dignitary
Ad blocker interference detected!
Wikia is a free-to-use site that makes money from advertising. We have a modified experience for viewers using ad blockers

Wikia is not accessible if you've made further modifications. Remove the custom ad blocker rule(s) and the page will load as expected.