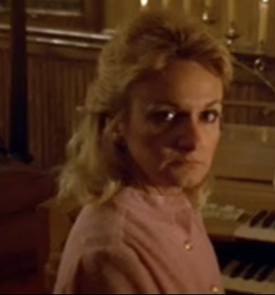 Mrs. Bowie 
is one of the villainous werewolves who appeared in a nightmarish sequence in 
Stephen King's Silver Bullet
. She is the organ player at the town church, and she was first shown playing the organ during the funeral for Brady Kincaid, who was mauled by a werewolf. Mrs. Bowie turned heel in Lester Lowe's nightmare sequence, which had him performing another funeral service. After playing the organ, the evil Mrs. Bowie displayed her heel persona with a sinister snarl at Lowe. Mrs. Bowie transformed into a werewolf (as did the rest of the attending members) and howled as she pounded on the organ, while the other werewolves went after Lowe.
Ad blocker interference detected!
Wikia is a free-to-use site that makes money from advertising. We have a modified experience for viewers using ad blockers

Wikia is not accessible if you've made further modifications. Remove the custom ad blocker rule(s) and the page will load as expected.