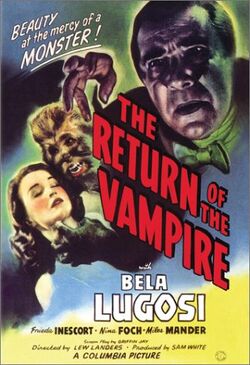 The Return of the Vampire is a 1944 vampire film. The werewolf of the story is Andreas Obry, who serves the vampire Armand.
Bela Lugosi as Armand Telsa/ Dr. Hugo Bruckner
Matt Willis as Andreas Obry
Frieda Inescort as Lady Jane Ainsley
Nina Foch as Nicki Saunders
Miles Mander as Sir Fredrick Fleet
Roland Varno as John Ainsley
Ad blocker interference detected!
Wikia is a free-to-use site that makes money from advertising. We have a modified experience for viewers using ad blockers

Wikia is not accessible if you've made further modifications. Remove the custom ad blocker rule(s) and the page will load as expected.