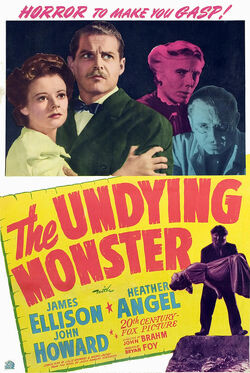 The Undying Monster is a 1942 werewolf film. Based on the 1936 novel by Jessie Douglas Kerruish.
John Howard as Oliver Hammond
James Ellison as Robert Curtis
Heather Angel as Helga Hammond
Bramwell Fletcher as Dr. Jeff Colbert
Heather Thatcher as Christy
Aubrey Mather as Inspector Craig
Halliwell Hobbes as Walton the butler
Ad blocker interference detected!
Wikia is a free-to-use site that makes money from advertising. We have a modified experience for viewers using ad blockers

Wikia is not accessible if you've made further modifications. Remove the custom ad blocker rule(s) and the page will load as expected.