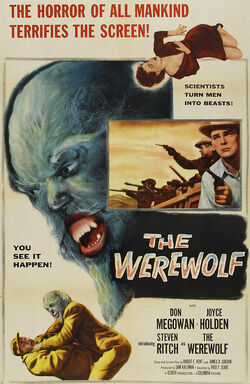 The Werewolf is a 1956 werewolf film.
Steven Ritch - Duncan Marsh
Don Megowan - Sheriff Jack Haines
Joyce Holden - Amy Standish
Eleanore Tanin - Helen Marsh
Kim Charney - Chris Marsh
Harry Lauter - Deputy Ben Clovey
Larry J. Blake - Hank Durgis
Ken Christy - Dr. Jonas Gilchrist
James Gavin - Mack Fanning
S. John Launer - Dr. Emery Forrest
George Lynn - Dr. Morgan Chambers
George Cisar - Hoxie
Marjorie Stapp - Min
Fred F. Sears - Narrator
Ad blocker interference detected!
Wikia is a free-to-use site that makes money from advertising. We have a modified experience for viewers using ad blockers

Wikia is not accessible if you've made further modifications. Remove the custom ad blocker rule(s) and the page will load as expected.