Werewolf pack
Talk

0
110pages on
this wiki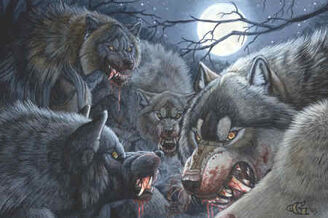 Werewolf packs usually consist of two or three groups, the Alpha Wolf, Beta Wolves, and Omega Wolves.Wolfs create packs because the bigger the pack the stronger they are.
Omega Werewolves
Edit
Omega Werewolves
Omega werewolves are always alone since they either got kicked out of the pack by the leader, the Alpha, or they chose to travel alone. Since they have no pack, they easily get killed off by hunters. They would usually be called, 'The lone wolf'.
An Omega werewolf are a rare type of species of werewolves since they were either born, or cursed on the Red Moon. To cure the curse, they must find another werewolf, specifically, an Alpha, to accept it into its pack. Then the curse is broken, and they are no longer an Omega, but a Beta. The problem with that, no Alpha wants another type of strange werewolf that isn't their own creation.
The Omega werewolf is named after the last letter of the Greek alphabet, Ω Omega. It's called this since the Omega is the last of it's kind and it won't survive for long without a pack.