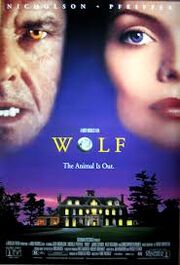 Wolf is a 1994 American romantic horror film directed by Mike Nichols and starring Jack Nicholson, Michelle Pfeiffer, James Spader, Kate Nelligan, Richard Jenkins, Christopher Plummer, Eileen Atkins, David Hyde Pierce and Om Puri. It was written by Jim Harrison and Wesley Strick, and an uncredited Elaine May.[1] The music was composed by Ennio Morricone and the cinematography was done by Giuseppe Rotunno.[2]
Publisher Will Randall (Jack Nicholson) becomes a werewolf and has to fight to keep his job.[3]
Storyline
Edit
Worn down and out of luck, aging publisher Will Randall is at the end of his rope when a younger co-worker snatches both his job and wife out from under his nose. But after being bitten by a wolf, Will suddenly finds himself energized, more competitive than ever, and possessed with amazingly heightened senses. Meanwhile, the beautiful daughter of his shrewd boss begins to fall for him - without realizing that the man she's begun to love is gradually turning into the creature by which he was bitten.[4]
Wolf (1994) is about a man who finds himself transforming into a werewolf at night while working to climb the business ladder by day. The film presents the werewolf transformation as being a gradual move towards a full metamorphosis into a wolf. It also presents the idea of lycanthropy being possession by a wolf spirit, the effects of it being evident both in transformations, but also in aggressive behavior and sharper senses while in human form.
References
Edit